TEDx Gull Lake 2017
Join me on April 22nd for the second TEDx Gull Lake!
I will be presenting a song-filled speech titled "Differences Don't Have to Divide Us," based on what I've learned performing songs about oddballs in history and moving from New York City to New York Mills, Minnesota.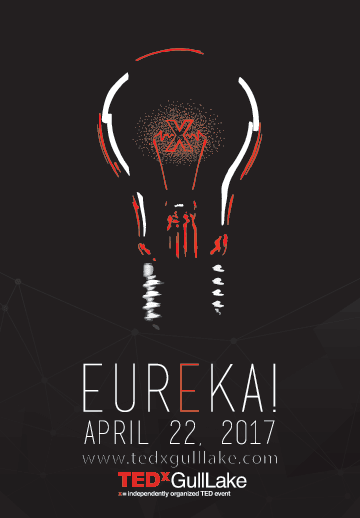 TEDx is an independently organized event, that brings people together to share a TED-like experience. At a TEDx Gull Lake, listen to over 14 live speakers that share stories and ideas centered around the theme of "Eureka!". Our goal is to showcase a wide variety of speakers on different subject fields, all the way from agriculture to art. However, it's not all talk. Between speakers there are breaks where you can participate in interactive booths & activities to stimulate your brain. Lunch will also be provided with your purchase of your ticket.
For more info please go to http://www.tedxgulllake.com/index.php/2017-presenters
Events – 2018
07/25/2018 | Featured Author | Private Book Club Event
07/18/2018 | Featured Author | Private Book Club Event
06/25/2018 | Featured Author | Private Book Club Event
06/13/2018 | Featured Author | Private Book Club Event
06/28/2018 | Featured Author | Morris Public Library | Morris, MN
05/31/2018 | Featured Author | Rogers Public Library | Rogers, MN
04/26/2018 | Featured Author | Staples Public Library | Staples, MN
03/24/2018 | Featured Teacher | Rosemount Book Festival | Rosemount, MN
03/23/2018 | Featured Author/Singer | Zumbrota Library | Zumbrota, MN
01/25/2018 | Featured Author | Eagle Bend Public Library | Eagle Bend, MN
01/15/2018 | Featured Author | Perham Public Library | Perham, MN
01/13/2018 | Featured Author | Private Book Club Event

Events – 2017
12/01/2017 | Featured Author | Upsala Public Library | Upsala, MN      11/27/2017 | Featured Author | Private Book Club Event10/22/2017 | Featured Author | Magers & Quinn Booksellers | Minneapolis, MN
10/07/2017 | Featured Entertainer | Jaques Art Center Annual Fundraiser | Crosby, MN
10/03/2017 | Author TV Interview | "Prairie Pulse" from Prairie Public Broadcasting | Fargo, ND
10/02/2017 | Author Event "Brown Bag" | Brainerd Public Library | Brainerd, MN
09/25/2017 | Author TV Interview | "The Mary Hanson Show" | Minneapolis, MN
09/21/2017 | Author Event | Sauk Centre Library | Sauk Centre, MN
08/19/2017 | Performer | Women's Awakening Festival | Ottertail, MN
08/17/2017 | Author Event | Thief River Falls Public Library | Thief River Falls, MN
08/17/2017 | Author Event | Red River Falls Public Library | Red River Falls, MN
08/16/2017 | Author Event | Grygla Public Library | Grygla, MN
08/16/2017 | Author Event | Godel Public Library | Warren, MN
08/15/2017 | Author Event | Hallock Public Library | Hallock, MN
08/15/2017 | Author Event | Greenbush Public Library | Greenbus, MN
08/14/2017 | Author Event | Warroad Public Library | Warroad, MN
08/14/2017 | Author Event | Roseau Public Library | Roseau, MN
08/12/2017 | Featured Artist | Crossing Arts Alliance | Brainerd, MN
08/09/2017 | Author Led Book Discussion | Beagle & Wolf Books | Park Rapids, MN
08/08/2017 | Author Led Book Discussion | Gathering Grounds | Perham, MN
08/05/2017 | Author Event | Edina Art Center | Edina, MN
07/26/2017 | Author Event | Rochester Public Library | Rochester, MN
07/23/2017 | Author Event | Lanesboro Art Center | Lanesboro, MN
07/22/2017 | Author Event | Nat's Books | Minneapolis, MN
07/20/2017 | Author Event | Zandbroz Variety Store | Fargo, ND
07/20/2017 | Radio Author Interview | Prairie Public Radio "Main Street" | Fargo, ND
07/17/2017 | Author Event | Book World | Baxter, MN
07/15/2017 | Author Event | Beagle Books | Park Rapids, MN
07/13/2017 | Private Book Club Appearance | Brainerd, MN
07/01/2017 | Author Event | Stony Point Resort | Cass Lake, MN
06/24/2017 | Author Event | An Open Book | Wadena, MN
06/18/2017 | Crazy About You | Robertson Theater | Wadena, MN
06/17/2017 | Crazy About You | Cultural Center | New York Mills, MN
06/15/2017 | Author Event | Cherry Street Books | Alexandria, MN
06/10/2017 | Book Launch | Cultural Center | New York Mills, MN
06/09/2017 | Crazy About You | Central Square Theater | Glenwood, MN
06/08/2017 | Crazy About You | Holmes Theatre | Detroit Lakes, MN
04/22/2017 | "What Oddballs Know About Connection" | TEDx Gull Lake 2017 | Maddens Resort | Brainerd, MN
Events – 2016
10/22/2016 | "Wild Rice Festival" | Nemeth Art Center | Park Rapids, MN | Armory Square
Tour: Madams, Matrons, and Madwomen: Unusual Women from American History in Story and Song
03/13/2016 | Wadena, MN | Robertson Auditorium
03/10/2016 | Perham, MN | Perham Public Library
03/08/2016 | Browns Valley, MN | Browns Valley Public Library
03/08/2016 | Wheaton, MN | Wheaton Public Library
03/05/2016 | New York Mills, MN | The Cultural Center in New York Mills
03/03/2016 | Elbow Lake, MN | Elbow Lake Public Library
03/02/2016 | Fergus Falls, MN | Fergus Falls Public Library
03/02/2016 | Fergus Falls, MN | Fergus Falls Public Library
---
Events – 2013
04/07/2013 | Minneapolis, MN | Sabes Jewish Community Center
04/06/2013 | Minneapolis, MN | Sabes Jewish Community Center
04/01/2013 – 07/01/13 | New York Mills, MN | Woodshedding, Recording, and Writing
06/15/2013 | Fergus Falls, MN | Our Farm
08/14/2013 | Jamestown, ND | Jamestown Arts Center
10/07/2013 | Los Angeles, CA | HealthyLife.net Radio
Events – 2012
4/06/2012 – 04/07/2012 | Minneapolis, MN | Sabes Jewish Community Center
9/20/2012 – 12/31/2012 | New York Mills, MN | Writing and TV Sabbatical