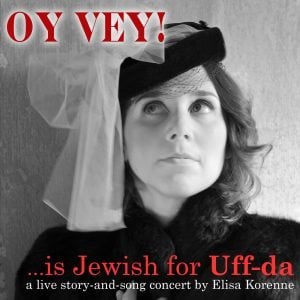 It's finally here! The live recording of 'Oy Vey' is Jewish for 'Uff-da' — just in time for Thanksgivukkah.  Don't wait another 70,000 years to pick up the perfect mix of Americana and Jewish cultural experiences.  A great gift for Chanukah, or a great activity for the family during this unique American-Jewish holiday.
'Oy Vey' is Jewish for 'Uff-da' is a live story-and-song concert by Elisa Korenne that tells the stories of the Jewish immigrants to the rural Upper Midwest. It features original songs about real people and events, stories, and explanations of history and culture.
Available for download on CDBaby: http://www.cdbaby.com/cd/elisakorenne3
ACCOLADES
"The show was fantastic – featuring a fun mix of storytelling, audience interaction, song/music performance, teaching moments, and so much more. Elisa is as professional as they come, both on and off stage, and gave a strong, thoughtful, humorous and heart-warming performance that our audience loved – from teens to senior citizens. We would gladly bring her back in the future, and highly recommend Elisa and 'Oy Vey' to any venue.
— Claire Avitabile, Director of Performing Arts, Sabes JCC, Minneapolis, MN
" 'Oy Vey is Jewish for Uff-dah' " is one of those performances that is difficult to describe – because it's so rich and complex. Elisa thoughtfully weaves stories and songs together that both entertain and inform the audience. The performance is fun, engaging, and heartfelt with original songs that charm – even our rural audience."
— Taylor Barnes, Director, The Arts Center, Jamestown, ND
DESCRIPTION
'Oy Vey' is Jewish for 'Uff-da' is an award-winning story-and-song concert by performing artist Elisa Korenne known for her songs and showcases that tell eclectic stories in edgy and elegant acoustic and rock.
In this engaging live performance, Elisa intersperses her original songs with story-vignettes and explanations about Jewish culture. Elisa's warm stage persona invites audiences to relax and enjoy unlikely and fascinating stories from history, her intelligent and engaging songs have audiences singing along, and her rich voice has listeners asking for more.
Elisa specializes in writing songs about unique and uncommon individuals and events generally left out of the historical canon. She crafts poignant, always entertaining songs out of their lives and words.
ORIGINS
The idea for 'Oy Vey' is Jewish for 'Uff-da!' originated in Elisa Korenne's experience moving from New York City, where she lived next door to millions of fellow Jews, to New York Mills, where she was the only Jewish person for 100 miles, or so it seemed. Strangely, Elisa noticed Jewish names on street signs and store awnings, and she began to wonder why. With her experience writing songs based in history, Elisa started researching the Jews who once lived near her new hometown. She discovered that in the 19th- and 20th-centuries, many Jews immigrated to the rural upper Midwest, a good number of them to be farmers. Elisa had never heard of Jewish farmers, and she was smitten with the idea of learning more about them. Elisa's research into the history of Jews in the rural Upper Midwest has been transformed with songwriting and storytelling into a fascinating hour of stories and songs about this small, unlikely, and mostly extinct group of rural Minnesotans, North Dakotans, and other Midwestern Jews. 'Oy Vey!' is Jewish for 'Uff-da!' bridges a large gap in the knowledge of and about Jews around the country, especially in this area where Jews are uncommon. The show makes people laugh and empathize with some of the most fascinating characters in history.
The creation of the concert and its songs and stories was made possible by support from Rimon: the Minnesota Jewish Arts Council, the Howard B. Brin Jewish Arts Endowment Fund, the Friends of B'nai Abraham, the Jewish Historical Society of the Upper Midwest, the Lakes Region Arts Council, and the Minnesota arts and cultural heritage fund.