'Oy Vey' is Jewish for 'Uff-da'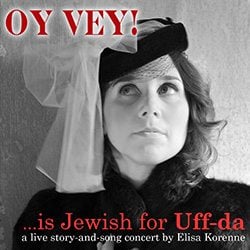 When performer/songwriter/storyteller Elisa Korenne moved from New York City to small-town New York Mills in rural Minnesota (population 1100), she felt like the only Jew for miles – or so it seemed. After noticing Jewish names on street signs and stores, Elisa started researching the Jews who once lived near her new hometown and discovered that in the 19th- and 20th-centuries, Jews encouraged other Jews to immigrate to the rural upper Midwest and become farmers.
From their stories, Elisa created a fascinating, humorous and thoughtful hour of tales and songs about this small, unlikely, and mostly extinct group of rural Minnesotans, North Dakotans, and other Midwestern Jews. 'Oy Vey!' Is Jewish For 'Uff-da!' bridges a large gap in the knowledge of and about Jews in our own backyard and around the country.
After four years of live performances, 'Oy Vey!' Is Jewish For 'Uff-da!' is finally available as a live recording on CDBaby.com. Download the digital album for a Thanksgivukkah experience of the entertaining performances that have made Elisa Korenne a featured performer around the Midwest.  In Elisa's caring portraits of the rare Jews who made the Plains their homes, you will learn about real Jewish farmers, life as a mail order bride, how Moishe the Peddler handled payment in pigs, where the pioneers got kosher meat, and how baby boys were circumcised on the prairie. Listen to audio from the live show using the player below.
What people are saying about 'Oy Vey' is Jewish for 'Uff-da'
"The show was fantastic – featuring a fun mix of storytelling, audience interaction, song/music performance, teaching moments, and so much more. Elisa is as professional as they come, both on and off stage, and gave a strong, thoughtful, humorous and heart-warming performance that our audience loved – from teens to senior citizens. We would gladly bring her back in the future, and highly recommend Elisa and 'Oy Vey' to any venue. ~ Claire Avitabile, Director of Performing Arts, Sabes JCC, Minneapolis, MN
" 'Oy Vey is Jewish for Uff-da' " is one of those performances that is difficult to describe – because it's so rich and complex. Elisa thoughtfully weaves stories and songs together that both entertain and inform the audience. The performance is fun, engaging, and heartfelt with original songs that charm – even our rural audience." ~ Taylor Barnes, Director, The Arts Center, Jamestown, ND
The creation of the concert and its songs and stories was made possible by support from Rimon: the Minnesota Jewish Arts Council, the Howard B. Brin Jewish Arts Endowment Fund, the Friends of B'nai Abraham, the Jewish Historical Society of the Upper Midwest, the Lakes Region Arts Council, and the Minnesota arts and cultural heritage fund.