Shorter Bio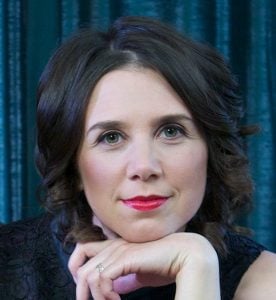 Elisa Korenne, a Yale Graduate and award-winning songwriter known for her original songs about oddballs in history, left New York City in 2006 to be an artist-in-residence in rural west central Minnesota. Since becoming a Minnesotan, Korenne has become known as a pioneering rural artist. Gull Lake TEDx chose Korenne to be a featured speaker at their April 2017 conference. Prairie Public Television in Fargo, North Dakota commissioned her to create songs and appear in a series of ten mini-music documentaries of unusual people and events in the Upper Midwest. Subjects include controversial politico A.C. Townley, health-insurance saleswoman Sister "Lumberjack" Amata Mackett, and Mail Order Bride Rachel Calof. She began her music career in 2001 after leaving her role at the international development nonprofit she cofounded, Geekcorps. An alternate Peacecorps for technology professionals building businesses in developing countries. Her debut book,
Hundred Miles to Nowhere: An Unlikely Love Story
will be available June 2017.  Visit
www.elisakorenne.com
.
Word count = 156 words